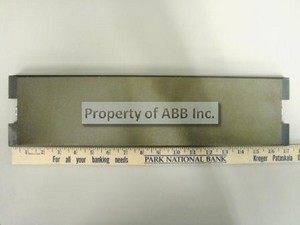 zoom [+]
P128552-001
Mfg Part #: 128552-001
Part Description: PRE-OWNED SENSOR FACEPLATE-BLANK
Product Line: Accuray - Paper
Additional Information:
Long Description: Sensor Faceplate - Blank
Catalog Description: SENSOR FACEPLATE-BLANK
Approx. Weight: 2.8 lbs (1.27 kg)
Approx. Dimensions: 1" x 17" x 4.2" (2.5cm x 43.2cm x 10.7cm)
Contact us with additional questions about applications or specs. All of our
Accuray pre-owned automation parts
are ABB-certified, inspected and dependable with our one year warranty.