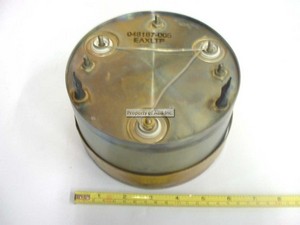 zoom [+]
P048187-005
Mfg Part #: 048187-005
Part Description: Pre-Owned Accuray ION Chamber
Product Line: Accuray - Paper

Additional Information:
Catalog Description: ION Chamber EAXLTP
Approx. Weight: 5.8lbs (2.631kg)
Approx. Dimensions: 6.8" x 8.6" x 11.8" (17.27cm x 21.84cm x 29.97cm)

Did you know that all ABB products are tested, cleaned and certified to ensure quality? Industrial Parts Outlet conducts all services in the ISO 9001.2008 factory certified repair center, contact us to find out more.
All of our
pre-owned industrial parts
are ABB-certified and come with a one-year warranty. View other
AccuRay Control products
, or
contact us
with any questions, for additional specifications, or to request a hard to find part.